2021.03.28 Liilte Captani!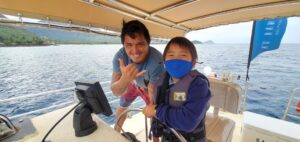 Aloha, This is Julie.
I am sure all boys love a car, bike,  boat,,, all kind of ride.
His name is David (6) who was looking at Captain JB all of the time…  So I asked him Do you wanna try ?  at first He was like No…No…. I am ok,,,,, so shy.
later on, He jumped on the captain seat and he love it! and showing a big smile!!  The smile of Keiki (Child) is very pure and nice. I hope today will be a good experience for him to get on the  boat and see  a wild animals.
Mahalo and a hui hou.