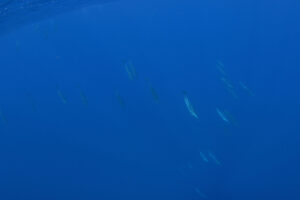 Aloha,
Since Oct 28, 2021 Approaching to Spinner dolphins 50 yards is prohibited in Hawaii.
We don't want to change our concept of Indigo Ocean Hawaii,  Interacting, feeling, learning and study about Hawaiinei (Nature) after the new rules. We are trying to swim with other wild dolphins such as spotted dolphins and bottlenose dolphins and more…. to be honest, I have been dealing with spinner dolphins for many many years, i am not sure about these two dolphins, but i love to learning about this 2 dolphins. However these 2 dolphins is very wild and stronger than spinner dolphin witch are completely unfamiliar with humans. They are staying deep water (3 miles off shore) and need a boat to see them….
Every day i am excited to see what and where i can see today…
Every day is learned and the best….
so Dolphin swim in prohibited  was on news,  I have many questions from many people … but don't worry we still can swim with dolphin as very wild.
I am looking forward to seeing you!!
Mahalo. Julie