《Notice regarding the new rules of the Marine Mammal Protection Act》
Starting October 28, 2021 regulations under the Marine Mammal Protection Act banned the 50-yard approach to Hawaiian spinner dolphins.
Therefore, you can watch and swim from 50-yards away for Hawaiian spinner dolphins, but you can swim as usual for other Hawaiian spotted dolphins, Hawaiian bottlenose dolphins and another wild creatures.
There is no particular change in the content of our tour, but dolphins are wildlife, so the species you can see will vary depending on the situation of the day.
Please note that the above rules apply when seeing Hawaiian spinner dolphins.
We appreciate your understanding and cooperation for the protection of wild animals.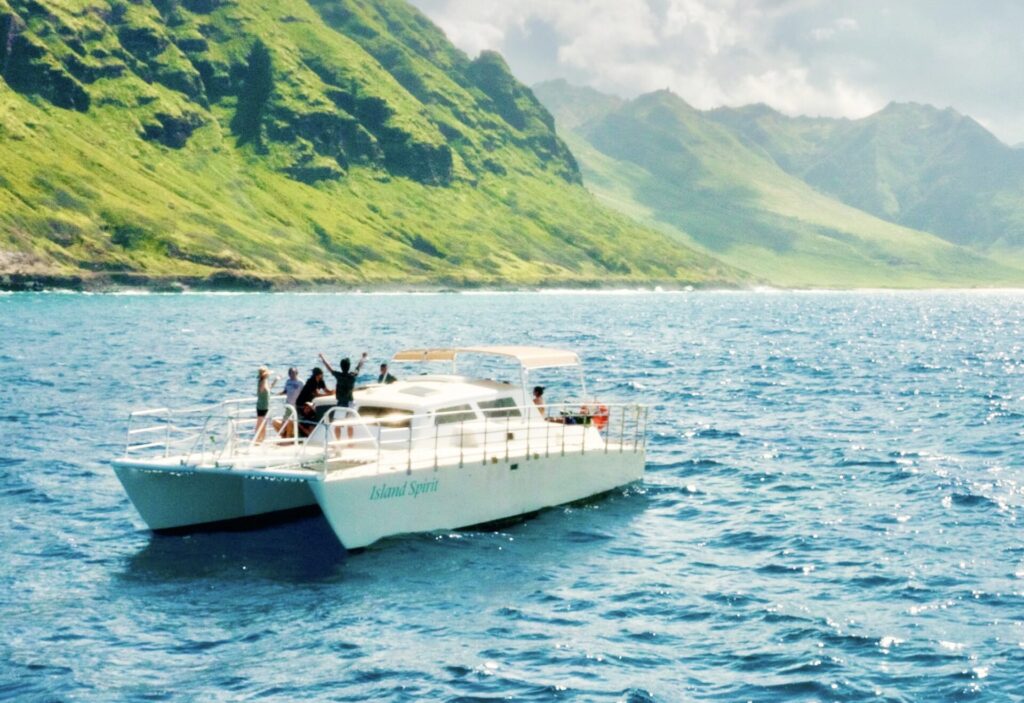 You will board a spacious 40 passenger catamaran boat to cruise the West Coast of O'ahu searching for wild dolphins. This double-hulled catamaran features a comfortable and stable ride as you relax and take in the breathtaking views of the ocean and the mountains.
In the clear waters of West O'ahu, find the wild dolphins pods swimming
gracefully in small or large groups. Remembering to keep distance from
the wild dolphins, you can also enjoy searching for Hawaiian green
turtles, tropical island fishes and other rare wild sea creatures.
Snack and non-alcoholic drink will be served. You can bring your own or alcoholic beverages.
Catering service is also available at additional cost. Please ask for the details.
Tour Time
please ask for additional hours
3.0 hours
Minimum Participants 1 people
Price
Max 40 People $5,600
Max 24 People $3,600
 
Shuttle from/to Waikiki p/p $30
Best for anniversaries, parties and group torus.
Double-hulled catamaran features a comfortable and stable ride.
Experience with wild sea creatures!
Homely tour that everyone can enjoy fro small children to adults
1st 
AM 5:55 Ala Moana Hotel
AM 6:00 Ilikai
AM 6:05 Trump International
AM 6:10 Ritz Carlton
AM 6:15 DFS
AM 6:25 Hyatt Regency
AM 6:30 Waikiki Beach Marriott
AM 7:10 Koʻolina 
AM 7:30 arrival to the harbor
AM 7:30 boarding and sailing
AM 10:30 return to the harbor
AM 11:00 leaving the harbor
PM 12:00-12:30 drop off to Waikiki hotels
2nd (Until 6/30/2021)
AM 8:55 Ala Moana Hotel
AM 9:00 Ilikai
AM 9:05 Trump International
AM 9:10 Ritz Carlton
AM 9:15 DFS
AM 9:25 Hyatt Regency
AM 9:30 Waikiki Beach Marriott
AM 10:10 Koʻolina
AM 10:30 arrival to the harbor
AM 11:00  boarding and shipping
PM 2:00 return to the harbor
PM 2:30 leaving the harbor
PM 3:30-4:00 drop off at Waikiki hotels
This tour includes
shuttle service from/to designated hotels
(for additional charge)
snorkel, mask, fins, life-vests


(We have snorkel gear on the boat for you, but if you have your own snorkel, mask and fins, please bring them.)



light snack, drink, water
souvenir (from your journey)
*Wetsuits can be rented for an additional $10 for adults and $5 for children.
Things to bring
Swimming wear
(Please wear a swimming wear under your clothes.)
towels
sun screen (Eco friendly possible)
hat
sunglass
* Feel free to bring your own food and non alcoholic beverages on the tour, we will also provide water, juice and light snacks for you.
* Please note that BANANAs are prohibited on the boat due to Hawaiian superstitions. It will bring bad luck.
* You may NOT leave behind your personal belongings on the shuttle bus during the tour, so please only what is necessary and only to bring on a boat.
Special Price
 KAMA'AINA 10% OFF / US Military 10% OFF
Need to present valid government issued ID.