11/03 New rules for Hawaiian wild Creatures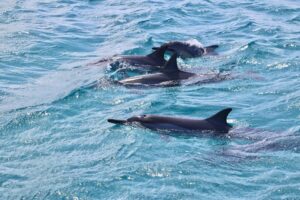 Aloha,
We would like to inform you about the new regulations of the Marine Mammal Protection Act.
Starting October 28, 2021 regulations under the Marine Mammal Protection Act banned the 50-yard approach to spinner dolphins.
Therefore, you can watch and swim from 50 yards away for hawaiian spinner dolphins, but you can swim as usual for other hawaiian spotted dolphins, hawaiian bottlenose dolphins and another wild creatures.
There is no particular change in the content of our tour, but dolphins are wildlife, so the species you can see will vary depending on the situation of the day.
Please note that the above rules apply when seeing spinner dolphins.
We appreciate your understanding and cooperation for the protection of wild animals.
Please feel free contact us if you have any questions.
info@indigooceanhawaii.com
Julie